I've been remiss in posting but I have been busy living and working but today...today was a beautifully lazy day.
Charlie got home from Vegas on Thursday night. He'd been at the National Association of Broadcaster's convention and had a large time but was tired. He went to work Friday and had to do a lot of catching up so he came home even more tired yesterday afternoon.I worked in Gulf County on Friday and came home knackered myself.
We slept in today, waking up to a rainy morning and lethargic cats.
So we found a good disaster movie and snuggled into our respective favorite "nests" (he in his lounger, I in my reclined couch) and watched. I can't remember the last time we were so completely committed to doing Nothing. We talked desultorily about food neither of us wanted to cook and decided that we would go to an oyster bar in Lynn Haven.
This place is only open on Thursdays, Fridays and Saturdays and not even then when the owner doesn't feel the need to crack oysters and steam crawfish.
The place is an old filling station (it pre-dates the term "gas station") with a bar, hard stools, repurposed fast food store booths and a soda station that faces the customer service area to facilitate the self-service expected for all but those consuming alcoholic beverages. Charlie had a diet coke, I decided to have one my my rare beers and we both ordered two dozen raw. I like mine on the tiny side, with nothing but a little lemon squeezed onto them. He dresses his with hot sauce, cocktail sauce and horseradish.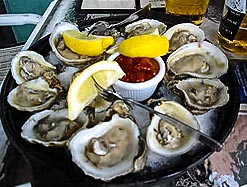 We sat and watched the rain fall again and the few other folks out on this drizzly afternoon who were willing to get damp for surly service and non-fancy seafood. A trio of travelers came in from a very large motorcoach in search of Apalachicola oysters; we assured them that they were in the right place. Two men and a woman, the younger of the two men (probably 60-ish) asked if the place had "Ying-Ying" beer. The owner speaks all varieties of Southern and understood the man to want a Yuengling beer. The two men of the party amiably discussed the virtues and downfalls of oysters from Mobile Bay, Bayou La Battre, and the west coast and the overall supremacy of the Apalach Oyster for its saltiness, richness, firmness and general deliciousness. I have to agree.
The lady of the group wandered the room and read the newsclippings on the wall about gators caught in lakes, sharks in the bay, and other assorted outdoor accomplishments.
Other people wandered in to buy take-out crawfish and raw shrimp. The owner said he'd bought 6 more bags of crawfish than he normally did and was still all sold out of live ones by Friday. He put one bag (about 40 pounds) aside for the dine-in clients and steamed up 5 pounds for the ladies seeking live ones. The big man who wanted raw shrimp had to wait while our oysters were shucked by the father and daughter team running the bar.
They are the kind of people who smile rarely, but when you get one of their smiles, it warms you.
The little oyster bar serves its shucked bivalves on old lunchroom trays with a sleeve of saltines, a roll of paper towels, and condiments on the counter. Side dishes come on foam disposable plates with plastic utensils to transport the food from plate to mouth.
They serve the oysters with a tiny fork but as a true Gulf girl I pick my oysters up with my fingers, check for shell and pop them into my mouth. I only use the fork on the steamed ones so I can dip them into butter without greasing my fingers. Charlie uses his fork to place his 'dressed' oysters on top of a saltine.Our raw dozens didn't quite fill the holes for protein we had so he ordered steamed crawfish and I had another dozen oysters, steamed this time. We got on the outside of those pieces of deliciousness, smiled contentedly at each other, and decided we needed to go grocery shopping next.
We attended to our mundane needs ( toilet paper, cat treats, bread, eggs and milk) and came home to cats ready for their afternoon feeding. We are doing things now; laundry, bill-paying, picking up and putting away and the Day of Lazy is over.
We should do this more often.